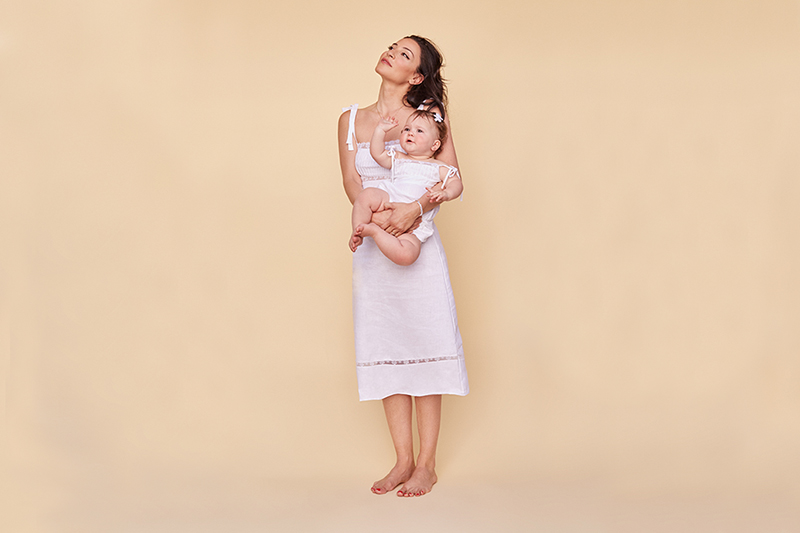 If mommy-and-me dressing is a way of life for you (or at least a sometimes hobby), the news that Reformation is launching kids might just be the best Mother's Day gift you could hope for.
Yep, that's right, the eco-minded clothing brand, helmed by new mama Yael Aflalo, is getting the mini-me treatment, thanks to a 5-piece line it's dubbing The Ref Kids Collection.
"We've actually had quite a few customers ask when we're launching a kids' line and last year when I became a mom myself, I understood why. So, I decided to make some matching outfits for Mother's Day," explains Aflalo. "We took some classic Ref shapes and prints and made them into matching kid size and mom size dresses.
Now you only have to pick out one outfit in the morning."
The collection—which goes on sale May 5—includes 5 popular adult dresses, shrunken down for sizes 2-5, in a cute selection of florals, polkadots, and Hawaiian prints, as well as one all-white number. Like all of Reformation's pieces, the Ref Kids garments utilize sustainable fabrics and vintage garments, and are made with best practices.
The fact that the brand is doing a matching mommy-and-me collection is a bit of a surprise to Aflalo herself. "I never thought I'd be that type of mom until I actually became a mom and now I'm fully 'that mom.' The whole campaign is called 'My best friend is a 2 year old' because that's exactly how I feel as a mom. My daughter is so fun to hang out with."
The humorous press release surrounding the launch explains her concept a bit more: "So, you became a mom. Now you're exhausted and there are no breaks and you haven't slept in months but you don't care because you take one look at them and you melt and if they needed a carpet to walk on, you would make yourself a carpet. They're the most fun and you've never smiled or laughed so much and you want to hang out with them all the time.
Basically, your best friend is a 2 year old. And even though you said you wouldn't be that type of mom, you are now fully, unabashedly, proudly, loudly 'that mom' and you love it. And we want to celebrate that—so we made you some matching outfits for Mother's Day."
While the collection is currently limited-edition, there's a possibly it'll turn into an on-going thing, depending on demand.