Basements are treasure troves full of forgotten keepsakes, cringy childhood photos, and some old junk you stashed away and forgot to throw away. Finding anything that has any real value is seriously rare. But when a couple from Ohio decided to renovate their basement, they had no idea that there was something waiting to be discovered that would change their lives forever.
They Bought a House in Need of Repairs

Reddit user Branik12, who also goes by Paul, considered himself a "do-it-yourself home remodeler." In fact, he and his wife bought a 1940s home in the Greater Cleveland Area in Ohio, that was a total fixer-upper. The couple was seriously excited to get started, but they knew this project would take a lot of work. Renovating a home is not easy if you don't know what you're doing.
Still, they felt they were up for the challenge.
But Renovating a Home Comes with a Price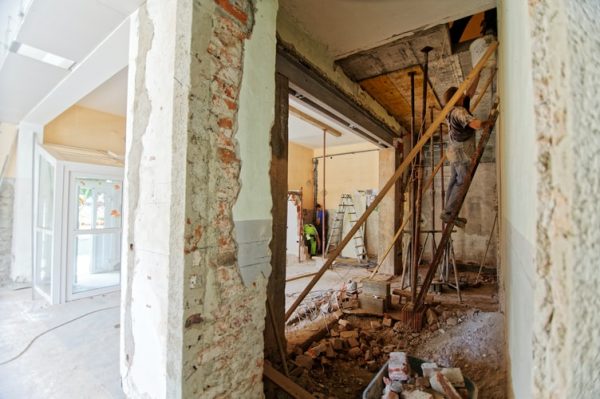 DIYing renovations is seriously hard work. We can't stress this enough. You either know what you're doing or you hire the right people to help you prevent all kinds of setbacks.
There's no in between. But you know what's even worse than messing up your house? Hiding a high value treasure in your old house, moving out, and forgetting all about it.
Tons of People Find Hidden Treasures in Their Homes

You could forget your doctor's appointment after your kid's soccer practice but no one could possibly forget they hid an expensive card collection or an unsigned Van Gogh painting in the attic, right? Well, reality is stranger than truth. Believe it or not, a real —and very much expensive— painting by Vincent Van Gogh had been stored inside the dark attic of a Norwegian house for years. How could this be even possible?
It Happens More Often Than You Think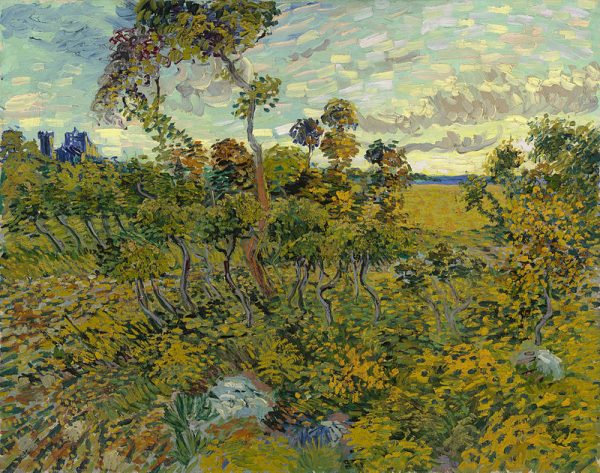 The invaluable painting titled Sunset at Montmajour was authenticated by a team of experts who couldn't believe how anyone would forget they had stored away such an important piece of history. As it turns out, the long-lost painting was thought to be fake by the family that owned it. Eventually, they realized they kind of treasure that was sitting in their attic for so long.
But what kind of treasure could've been hiding behind Paul and his wife's basement walls?
They Got Straight to Work

The couple decided to focus on the first and second floor first. They were almost done remodeling, but there was still one room that remained untouched — the basement. Remodeling a tiny little space like that didn't really faze them.
After all, they had just renovated an entire house! But when they got started, they discovered a mind-blowing treasure that could potentially change their lives.
They Didn't Know Where to Begin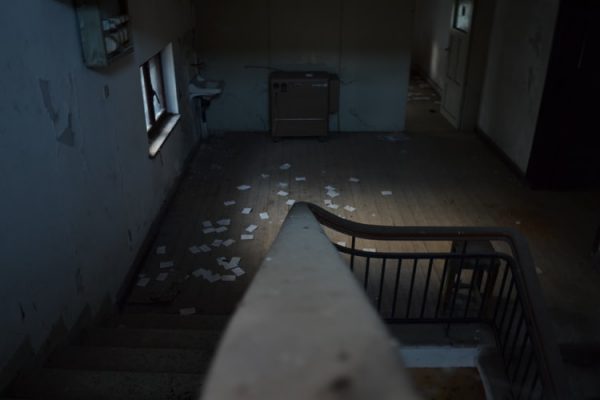 The second they stepped foot there, the place sent chills down their spines. But Paul and his wife felt they were up for the challenge. The basement was a total mess, but they could see the potential.
They just needed to make a last ditch effort and their house would finally feel like a home. But what the couple didn't know is that someone who had previously lived in their home thought the basement was the perfect place to hide a remarkably valuable treasure.
The Basement Was Very Eerie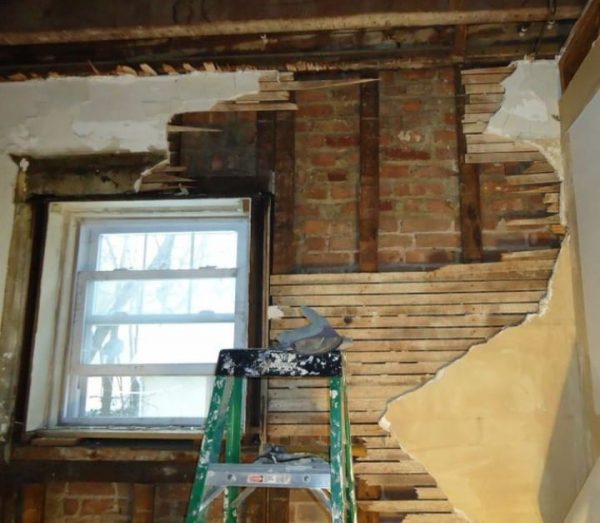 The basement was huge, but it only had a couple of tiny windows, which made the interior dark and intimidating. The floor was made of concrete and the cinder block stones on the walls were showing behind the peeling plaster. So, Paul started tearing the walls down, which lead to some sudden and rather strange discoveries.
There Was a Message on the Wall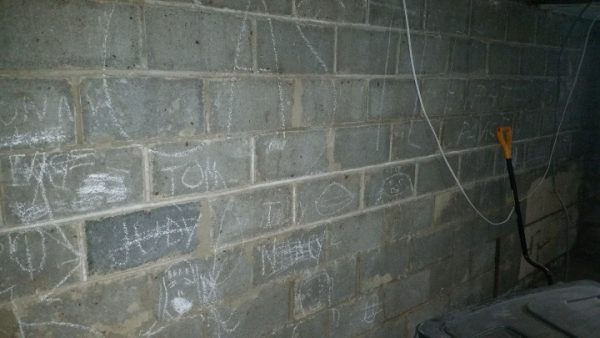 As Paul chipped away the old plaster, he exposed the basement walls. That's when he noticed something that looked particularly odd. "We peeled back the walls and revealed some random writing and drawings," he wrote on Reddit.
The engravings included names and what looked like children's doodles.
It Kept Getting Weirder

In the beginning, he didn't think much of it. But the more he peeled away, the stranger the wall art got. In fact, Paul couldn't help but notice that some of the drawings looked like a very questionable insignia.
He wrote on the post, "Here it gets a little more strange. Are those swastikas? This place was built in the late 40s?" Despite this, he decided to continue with the renovating, but there was something about the discovery that left him unsettled.
He Showed the Ceiling Some Much Needed Love

Once the plaster was completely removed, Paul got to work on the ceiling, which he hoped would go smoothly, but it didn't. "There [is] a good quarter inch of dust on the ceiling," he explained. "We put up plastic to keep the dust out of the rest of the house and exposed then patched the air returns first."  He thought he could handle the messy part of the renovation, but he had no idea what he was in for until it was too late.
He Had to Go Through Dirt and Grime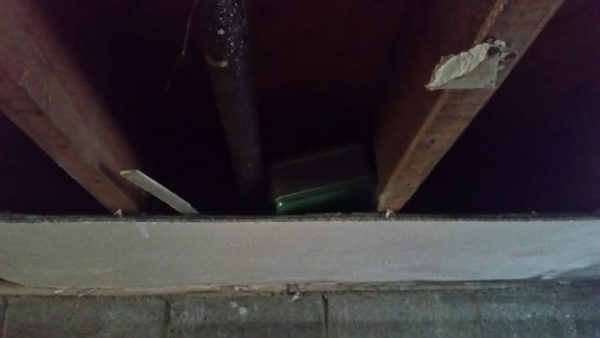 So far, renovating the house had been a lot easier than any other renovating project he did in the past. But that's mainly because the basement was empty, which meant that he didn't have to move a lot of things around to begin. So, he started tearing the ceiling apart, even if it was covered with grime and dirt.
But then he stopped rather suddenly when he saw something tucked between the pipes.
A Very Strange Discovery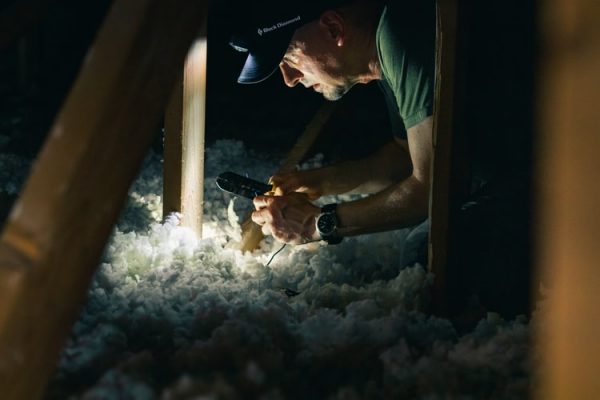 The couple knew a project of this magnitude wouldn't be a walk in the park. But they didn't expect to uncover something that would potentially change both of their lives. Little by little, Paul kept taking apart the ceiling of the basement which allowed him to expose the pipes and wooden beams.
And that's when he saw it. There was a strange object that seemed to be lodged between the pipes.
He Found An Object in the Beams Above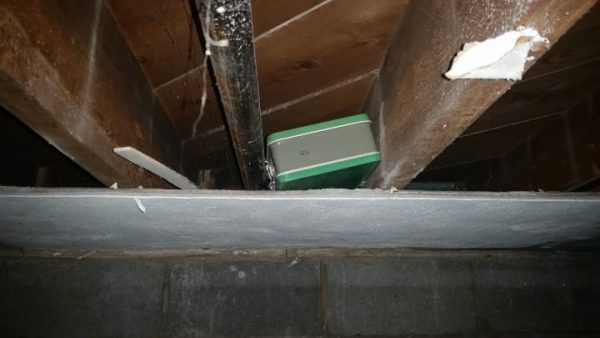 Paul grabbed a flashlight and climbed back up the ladder to take a closer look. That's when he saw a tiny green metal box hidden between the plaster and beams of the ceiling. "Cool! A treasure," he assumed and took a few photos.
He even joked on the internet that he could be one of those netizens who got rich after finding lost treasure. But curiosity beckoned him to see what was inside, and needless to say, he was left speechless.
He Took the Box Outside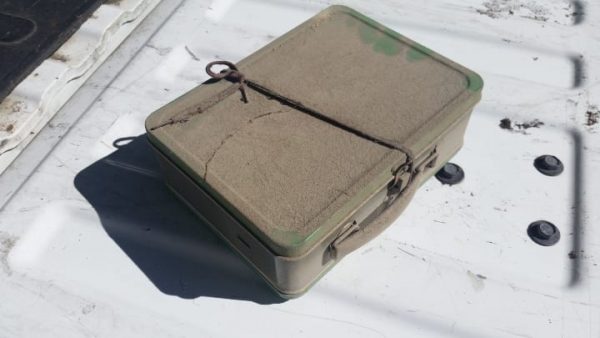 Paul reached out and grabbed the dusty old box. He climbed down and took it outside to open it. His wife was intrigued as well, so she came along, too.
He could tell there was something in the box. It wasn't bars of gold or coins or the case would have rattled. But the box felt pretty heavy. So, he decided to document the entire process by taking photos as he prepared to open it.
He Wondered What Was Inside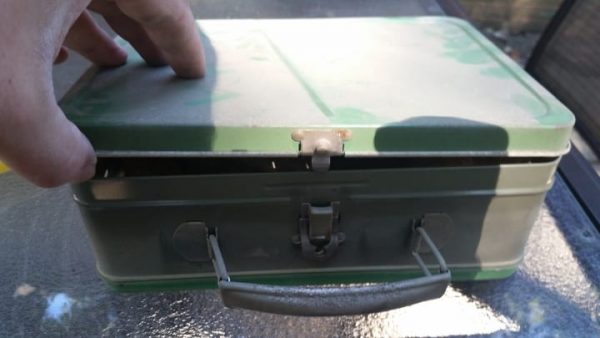 Paul had read stories of people finding treasures, but he never thought he'd be one of the lucky few. So, he and wife started wondering about the contents of the box. He thought that perhaps, the former tenants had stashed away a collection of baseball cards.
His wife thought it may have been someone's old family recipes. But when they opened it, they realized that their guesses were way off.
He Found Three Packages and a Dated Newspaper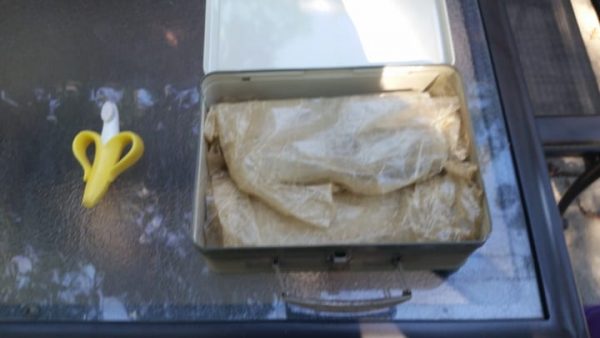 Banana for scale is an expression indicating that a banana has been placed in a photo to reveal the true-to-life size of another object. But Paul didn't have a banana, so he grabbed a banana-shaped toothbrush that he owned to show the scale of the box. Once he managed to open the green box, he discovered three packages separately wrapped in wax paper.
He also found a piece of an old newspaper called the Cleveland Plain Dealer. It was dated Sunday, March 25, 1951. Could it be that whatever was in the three packages had been there since the 1950s?
One Package Had Lots and Lots of Twenties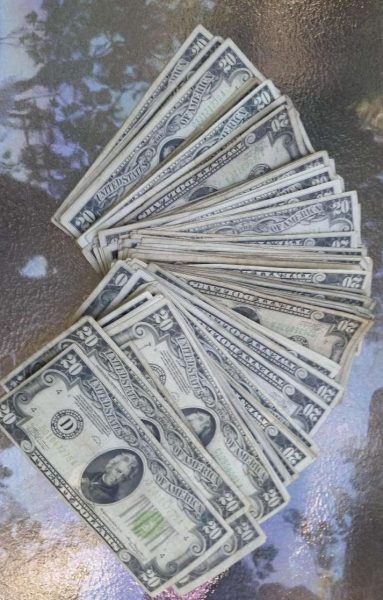 Paul started unwrapping the first package and was completely stunned when he discovered an enormous stack of bills with high denominations. "These are all twenties!" Paul wrote on Reddit.  The couple assumed that there was probably about a thousand dollars in that one package alone. "We are freaking out at this point," he wrote.
But would the second package be as financially lucrative as the first?
The Second Package Had an Even Bigger Surprise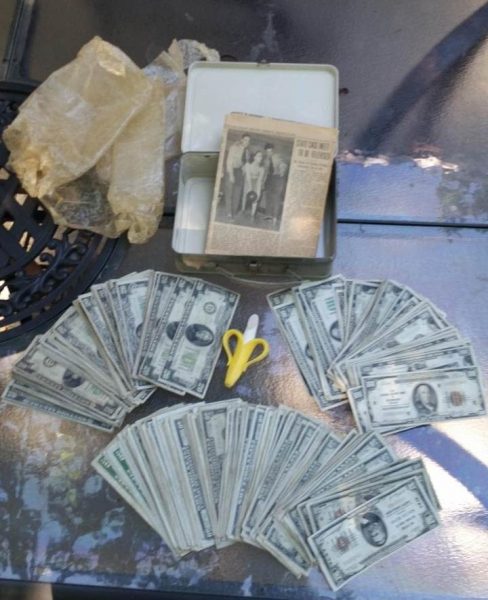 Paul and his wife had already checked one-third of the contents inside the box, and they secretly hoped that the second package would have more money as they unwrapped the wax paper. And as it turns out, there was a lot more than they could've anticipated. "The second package did not have any twenties," Paul wrote on Reddit.
This time, all the bills were fifty dollar bills! Would the third package contain bills with higher denominations?
The Final Package Took Their Breath Away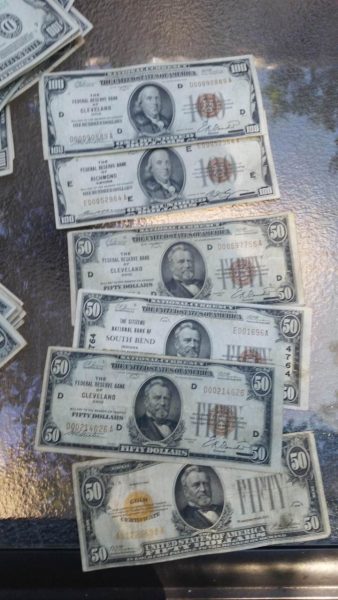 Paul and his wife eagerly opened the third package and found a stack of $100 bills. "This is out of control!" Paul wrote on Reddit. He was waiting for someone to pop out and shout "smile, you're on candid camera." But it turns out that there had been a hidden fortune waiting to be discovered right under their feet this whole time.
And although the box was empty, the mystery was far from over.
The Bills Were More Valuable Than He Imagined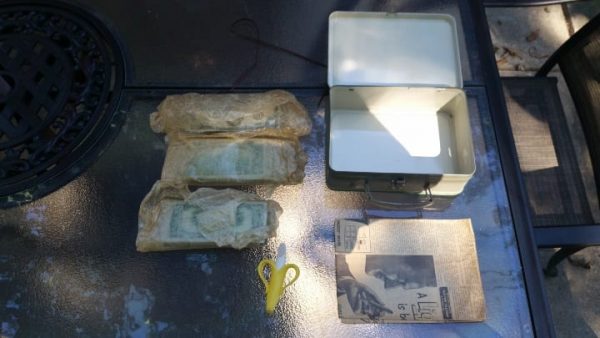 As he went through the bills, he realized that some of them were probably worth a lot more because they were so rare. He also wrote on Reddit that he saw "some brown notes, a gold certificate and some star notes nearly uncirculated" among his newly discovered treasure. The bills were printed between 1928 and 1934.
But there were a couple of questions weighing on his mind. "What do we do now?" he asked. "Is it ours? What is it worth?" So, he aimed to find out.
They Couldn't Believe Their Luck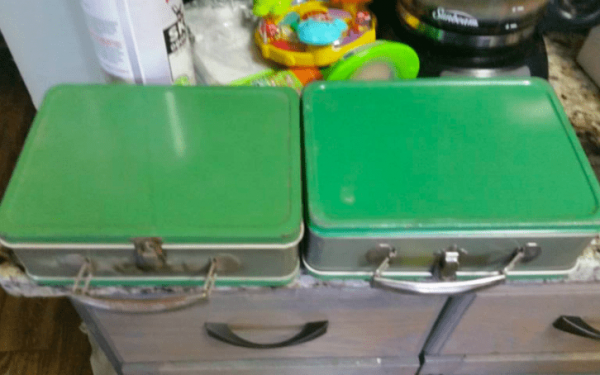 Paul was beside himself. But he still took the time to document the experience, despite the excitement. He told Reddit then what he planned on doing next.
"I decided that we needed to have the special bills appraised and talk to a lawyer about how to proceed. Once the legal stuff was taken care of I decided to continue with the plan to post to imgur," he wrote.
The Bills Had a Higher Face Value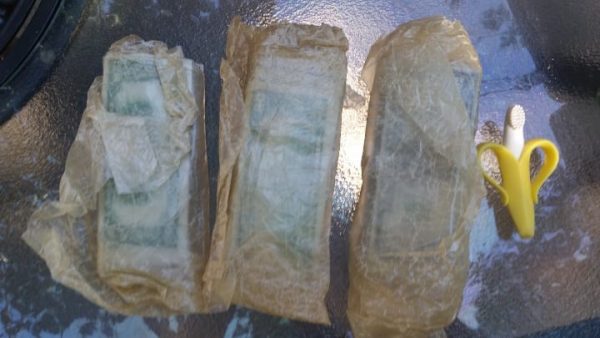 The couple held off on the renovation project and focused on doing some online research to figure out how rare these bills were and to find an appraiser.  Paul also called an estate lawyer, who was also a friend. He confirmed that the money legally belonged to him and his wife. So, he went to an appraiser and learned that 20 of the bills had a higher face value, and 10 of them were worth four times their original value.
In total, they had about $23,000. But there was still more to this unbelievable story.
There Was Another Discovery in the Ceiling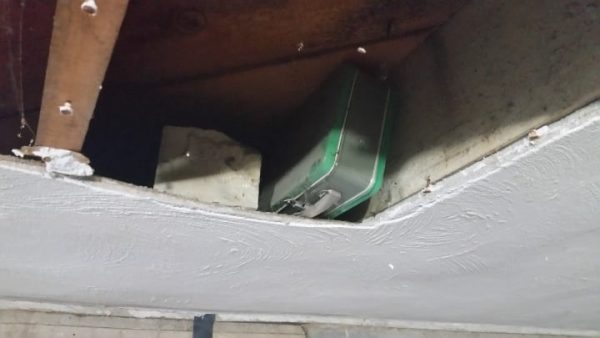 "After about a week, the high wore off," Paul wrote in a follow-up Reddit post. So, the couple decided to get back to work on the basement, which was a total mess. Paul continued to tear out more of the basement's ceiling.
But as the plaster fell, he noticed a familiar green object in the ceiling. Was there another box? They had already stumbled upon an incredible discovery. Could they get this lucky twice?
Was There a Third Box?

Paul eagerly removed the second box and took it upstairs, but decided to head down to the basement and tear the rest of the ceiling, in case there was a third or fourth object hidden down there. After exposing the ceiling entirely and finding nothing else, he headed back upstairs to check out his latest find. The excitement was too much to handle this time.
He Was Dying to Know What Was in It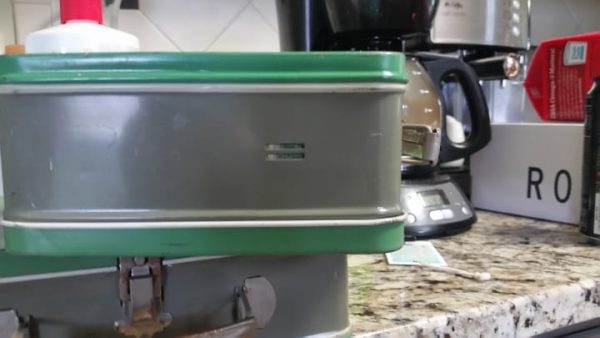 Paul could feel it. He was about to get lucky again. They say lightning doesn't strike twice, but we all know that's not true.
Lighting can actually strike any location more than once. Was Paul and his partner about to get lucky again? Curiosity got the best of him, so he took a peek through the vent. He wrote on Reddit, "The second box is heavier than the first! About twice as heavy! No guessing here, there is definitely cash inside. I can see cash through the vent."
There Was More in the Second Box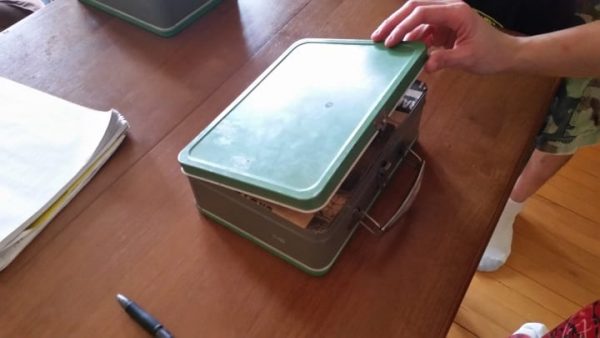 The second box was a lot heavier, and Paul was hoping that there was twice as much money inside as in the first box. But he had to wait until his wife got home before opening it. As soon as she arrived, they took a look.
And again, they found wrapped contents and pieces of old newspaper from 1951. But there was something even more amazing under the newspaper that the first box didn't have.
The Box Was Loaded With Unstacked Bills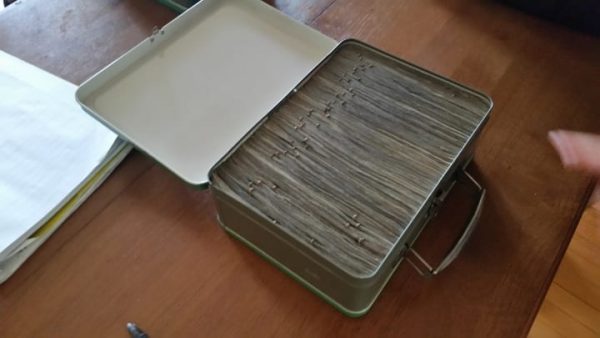 Once they removed the old newspaper, the couple found a collection of old bills. But they weren't separated into stacks. So, Paul and his wife started flipping through the content of $20 bills, along with a couple of $50 and $100 dollar bills here and there.
The $20 bills alone totaled $10,000. They were also quite rare, so they went to get their treasure appraised.
He Couldn't Believe His Luck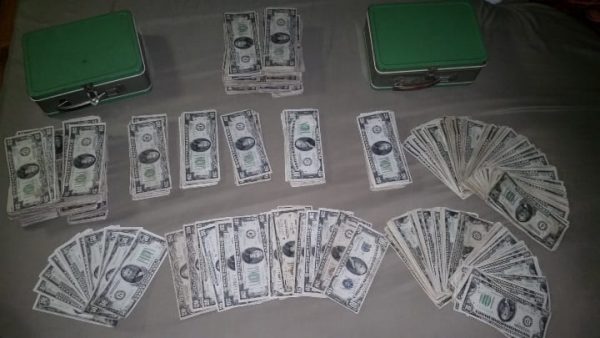 The second haul was packed with mostly $20 bills, but hey! Paul and his partner were absolutely not complaining. Out of all the strange things they could've found in the attic, they were more than happy to unearth such a unique and valuable treasure. He separated all the bills and stacked them together and wrote, "The stack son the left and top are stacks on $10,000 in 20s."
The Couple Sold a Few of the Bills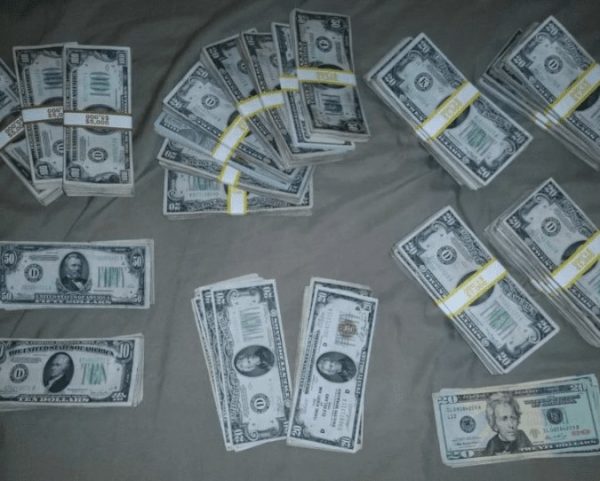 Paul was a total neat freak so he stacked all the bills and made sure to keep them organized. He joked, "Being the nerd that I am, I made bands and printed them off to organize the money. The rare bills have been sold as you can see some newer bills in here now." After this photo was taken, the couple sold a few of the bills too, and boy did they smile from ear to ear when they realized how much they were worth.
They Had the Second Cash Stash Appraised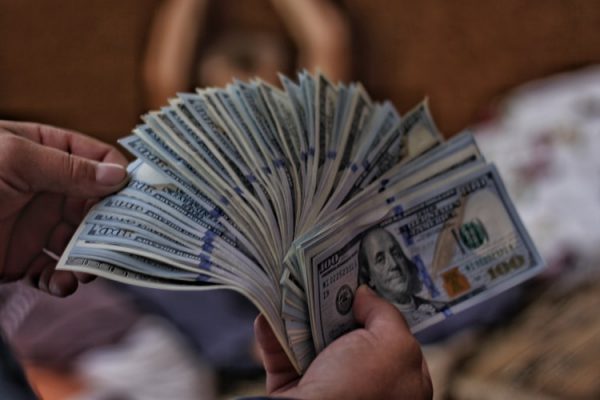 The couple took the contents of the second box to the appraiser and sold the rare bills for about four times their original face value. In total, both packages provided the couple with over $45,000, which Paul deposited right away. "I seriously had to make an appointment and sit there and watch them count it all out," he wrote.
"It was great fun!" But what did they spend the money on?
They Used the Money on the Mortgage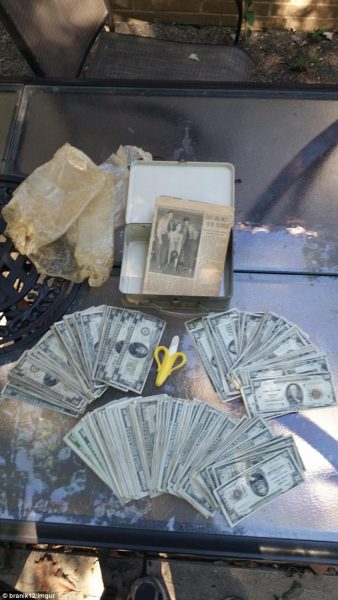 What started out as a home remodeling project turned into one of the most amazing discoveries for the happy couple. In a follow-up post on Reddit, Paul answered a few questions. One netizen asked what they planned on doing with the $45,000.
Then Paul explained, "It is in the bank and will be paid toward our mortgages," which is a very smart plan.
This Money Would Help Make Their Dreams Come True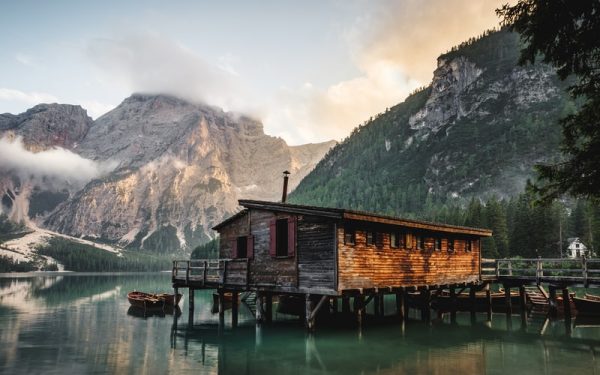 The couple figured that this crazy amount of money would allow them to pay their mortgage off a lot quicker so they could move to the countryside. "We should be all paid off in 2017 and will be able to move to the country," Paul wrote. How exciting for them! But some netizens asked the couple if they thought that karma was smiling back at them and asked them if they thought they were good people who deserved that money.
People Had a Ton of Questions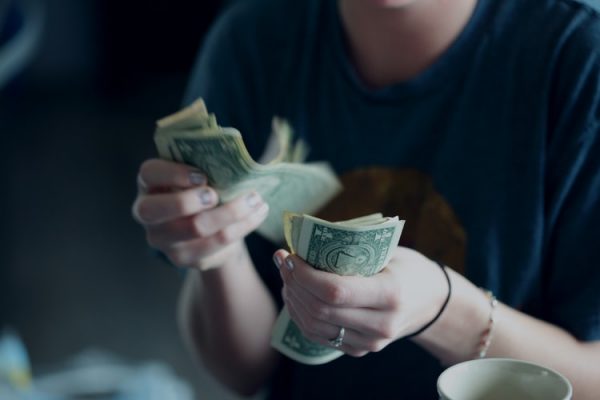 Paul responded, "Was it karma? are we good people? We are generally good people. We try to help other when we can. General acts of kindness go a long ways.
I however don't believe in karma." Regardless or whether you believe in willful action or not, it's safe to say that luck was on this couple's side. And, as you probably figured out already, their story went viral fast!
They Made the Front Page of Reddit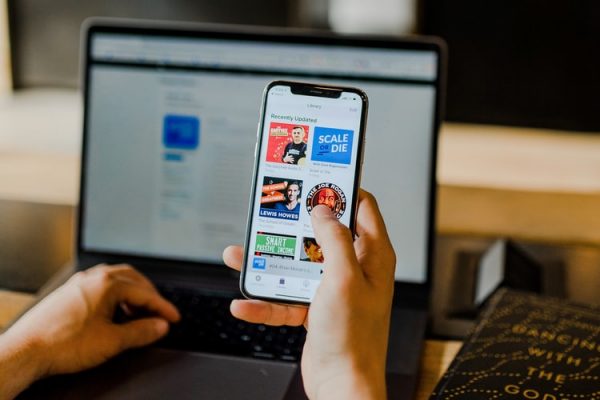 Their incredible discovery made the front page of Reddit, and in the blink of an eye, media outlets such as Daily Mail, Little Things, Telegraph UK, and Ice Pop picked it up and were reporting their story. The couple was thrilled that people from all over the world were so invested in their discovery. Unsurprisingly, everyone had a ton of questions for the couple, so Paul made a suggestion.
He Was Thrilled to Answer Some Questions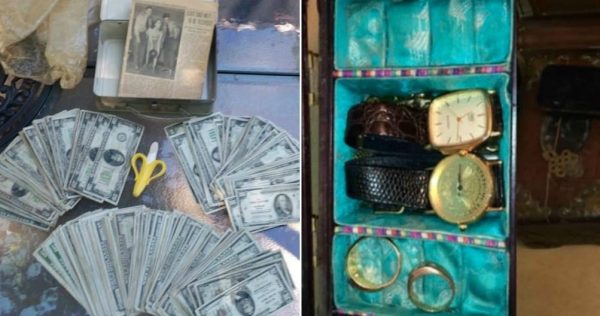 Paul let Redditors know they could send him a private message if they had any questions, and he promised that "if there are enough good ones, I'll answer them in a post so I'm not answering the same question a thousand times." Overall, people were thrilled for the couple as they'd be able to pay their mortgage and eventually move to the countryside as they had always envisioned for their future.
They Should Check The Whole House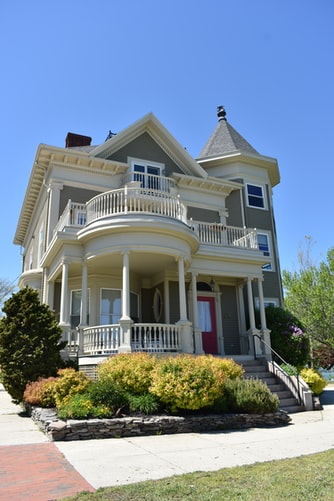 Regardless of what they plan on doing with the house in the future, the couple should really consider double checking every nook and cranny, room, and every corner before they move out in case there's more hidden money, right?